They're back – Burn the Curtain return with their rambling alfresco museum-experience in Green Circle Parks Mincinglake, Riverside and Ludwell Valley this September and October. They're inviting you to step outdoors into a fantastical experience and discover a side to your local park that you've never seen before!
Burn the Curtain believe that any space can be magical, and that any one of us can create magic moments, and this is what 'The Imaginarium of Us' did last year. They're thrilled to be able to continue that work, building upon those magic moments and creating new ones with the local communities around Exeter.
The ethereal Curiositors (rather strange other-worldly visitors) enjoyed their visit to Exeter, Earth so much in 2021 that they're preparing to make another journey across time and return very soon. They're powered by discovery and creativity, so as long as they keep finding more intriguing items their curiosity levels will stay high – and it seems that the new artworks that Exeter earthlings have been making have really got them super-charged!
Joe Hancock, co-producer of the project is thrilled to be bringing the Imaginarium back to Exeter; "We took a big risk creating the Imaginarium in 2021, without having any idea what the people of Exeter would make of it…turns out they loved it! They were so enthusiastic about it that we decided to bring it back again this year, with new artwork, all of which relates to the city in some way… Come and join us, it is a fun way to explore the beautiful green spaces nearby."
The Imaginarium will be opening its doors to audiences on September 16th, 17th, 23rd, 24th, 30th and 1stOctober.
Walking performances are for 1 hour 20 minutes and you can book your slot between 6 and 9pm by clicking on this link https://www.tickettailor.com/events/burnthecurtain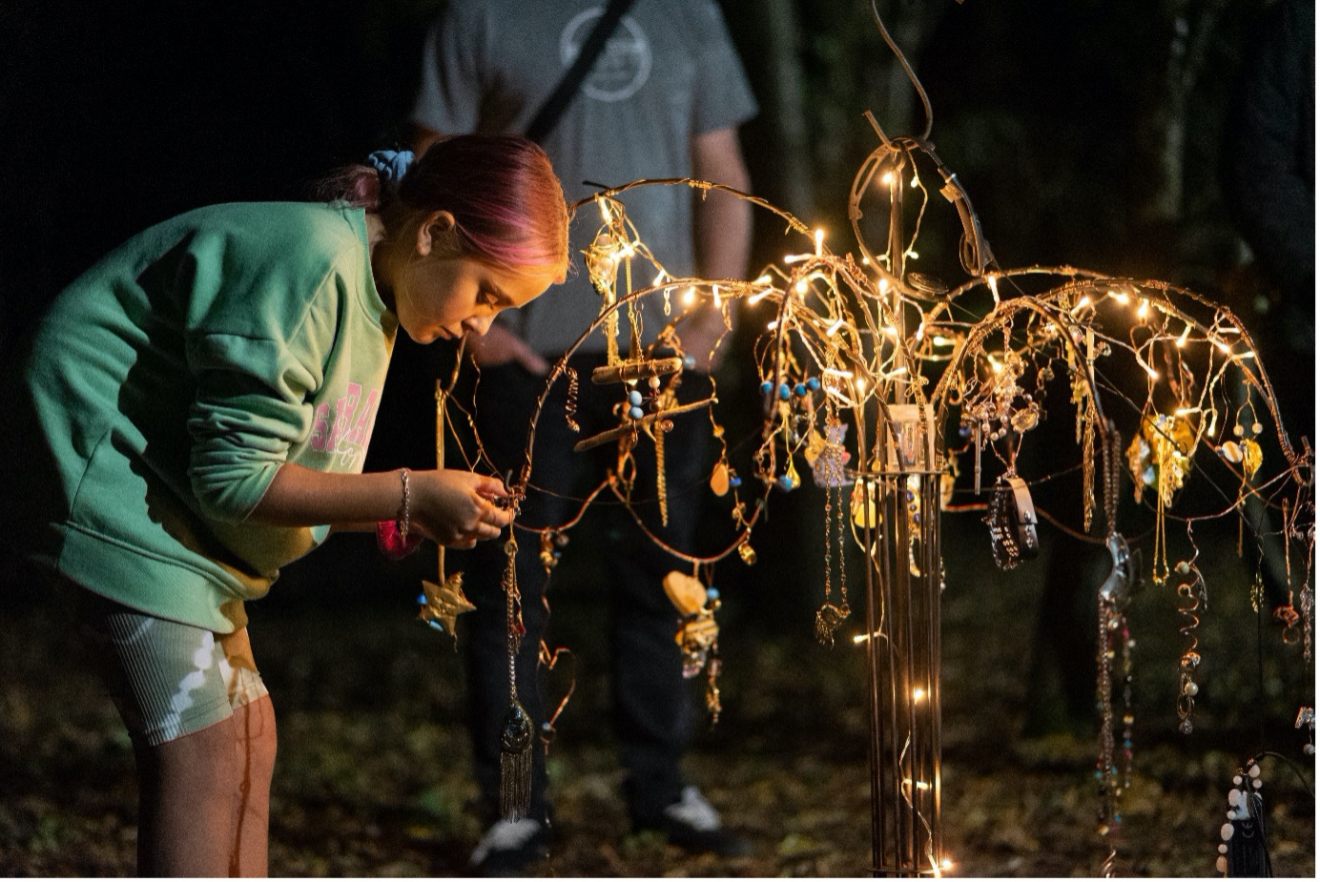 Photo: Theo Moye
Fans of Burn the Curtain will be aware that they have a remarkable knack of mixing creativity, theatre and physical activity. Many of their visitors last year commented that it was wonderful seeing their children running ahead rather than grumbling at the back!
Live and Move, the Exeter and Cranbrook Sport England Local Delivery have supported the project as well as our funders from the National Lottery through Arts Council England, Heritage Lottery and Exeter City Council
James Bogue, Live and Move Programme Lead says: "Live and Move are all about making lives better by encouraging people to be more physically active every day. We think the Green Circle offers a perfect opportunity to enjoy the benefits of being outdoors in nature and we want to encourage communities to explore and get to know these walks, which are right on the doorstep and free to enjoy."
It wouldn't be the Imaginarium without the involvement of the community and so Burn the Curtain have been running free workshops (Wondrous Ramblings and Sum of Our Imaginings).
In these, people get to work with local artists and help them build the exhibits that will be in the Imaginarium when it opens its doors in September, as well as exploring some of Exeter's Green Circle.
This year they've been joined by Donna Richardson, Peter Margerum, Just Sewn Stories and Dot Kuzniar making sculptures from recycled materials, getting creative with glass, text and textiles and metalwork. You'll be able to see the results of all this creativity at the Imaginarium guided by the supernatural Curiositors.
Performances are relaxed and family friendly. Anyone wishing to discuss access requirements or find out more about the accessibility of our three venues should contact kerrie@burnthecurtain.co.uk
Poster designed by Sue Gent
Website:​​ burnthecurtain.co.uk 
Facebook:@burnthecurtain 
Twitter:@BurntheCurtain 
Instagram: @burnthecurtain