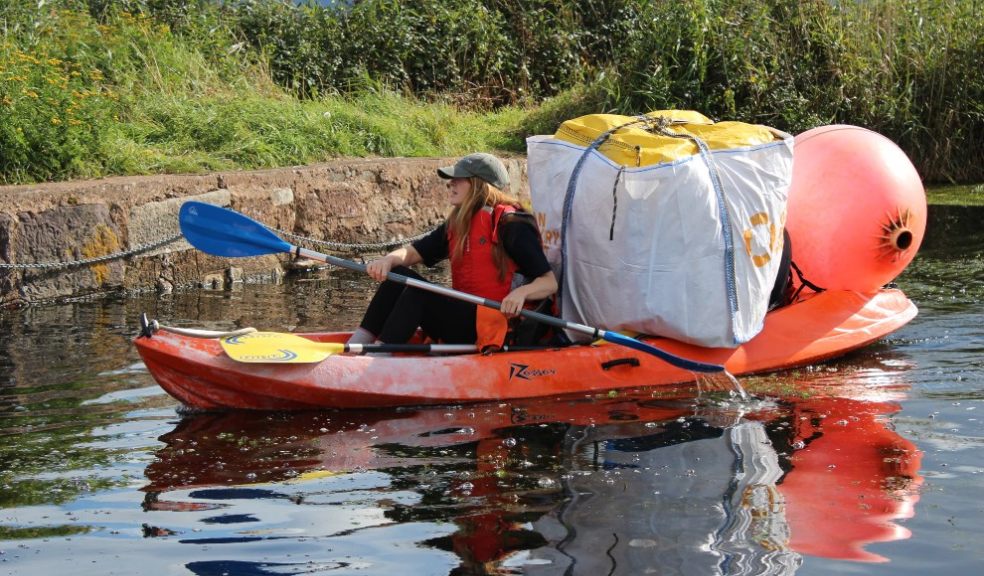 Plastics washed up from around the coastline have arrived in Exeter after being sailed up the coast on a carbon-free journey – the first of its kind.
The discarded items arrived at Turf Locks on Thursday morning before being kayaked up the Exeter Ship Canal and into the city. The plastics are being taken to Exeter City Council's Materials Reclamation Facility, before being sorted and sent off for recycling, where some of the plastics will be turned into useful items like ocean kayaks.
The thrown-away plastic – weighing in at just over a tonne – was collected by Clean Ocean Sailing from beaches and rivers around the peninsula, as well as the Scilly Isles and sailed up from Gweek in Cornwall to Exeter in a 112-year-old schooner – The Annette.
The carbon-neutral journey is part of the Ocean Recovery Project, a partnership between Exeter City Council, Keep Britain Tidy and South West Water. Exeter Canoe Club helped out with the paddle power up the Canal.
The initiative sees marine plastics collected from the south west taken to the City's Council's MRF, where they are sorted and sent off to be recycled. Some of the plastics are turned into ocean kayaks by Odyssey Innovation.
This project has been shortlisted for Let's Recycle.com's 2020 Awards for Excellence in Recycling and Waste Management, in the Best Local Authority's Recycling Initiative of the Year category.
Cllr David Harvey, Lead Councillor for Environment and City Management, said Exeter was proud to be playing its part in a project to protect the planet and keep beaches in the South West plastic free.
"The journey up from Cornwall is entirely by wind-power and therefore carbon-free, fitting perfectly with our own agenda to become carbon neutral by 2030.
"The Ocean Recovery Project is a fantastic initiative and it's no surprise to me that it has been short-listed for a national award. I'm proud of the central role that Exeter and the City Council is playing with this initiative."  
Neil Hembrow from Keep Britain Tidy said: "We are pleased that people's efforts cleaning our South-West beaches are being empowered by the most sustainable of journeys. In a world being effected by climate change, it's important that materials are recycled with the lowest carbon footprint possible. We thank Clean Ocean Sailing for navigating the English Channel to bring us this beach plastic."