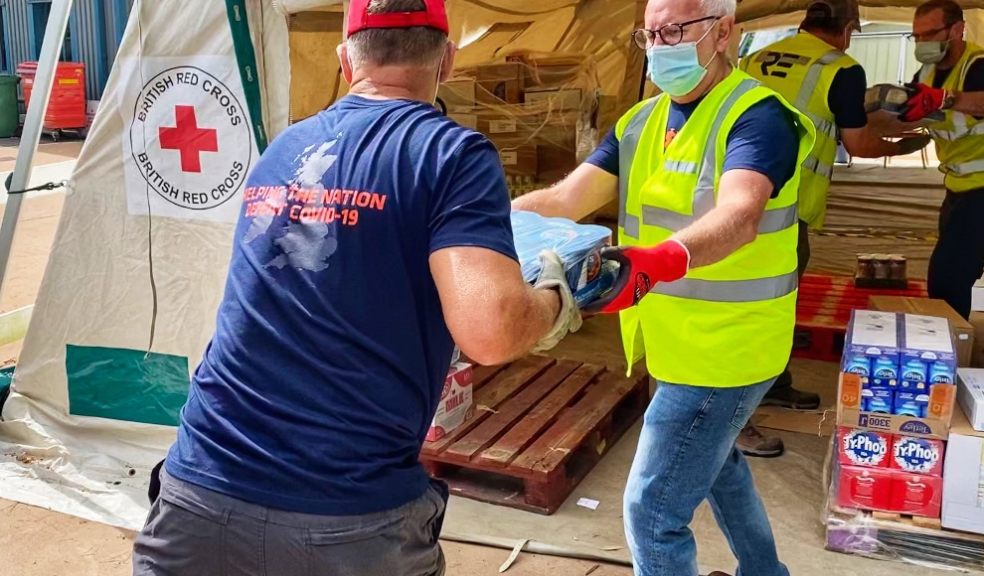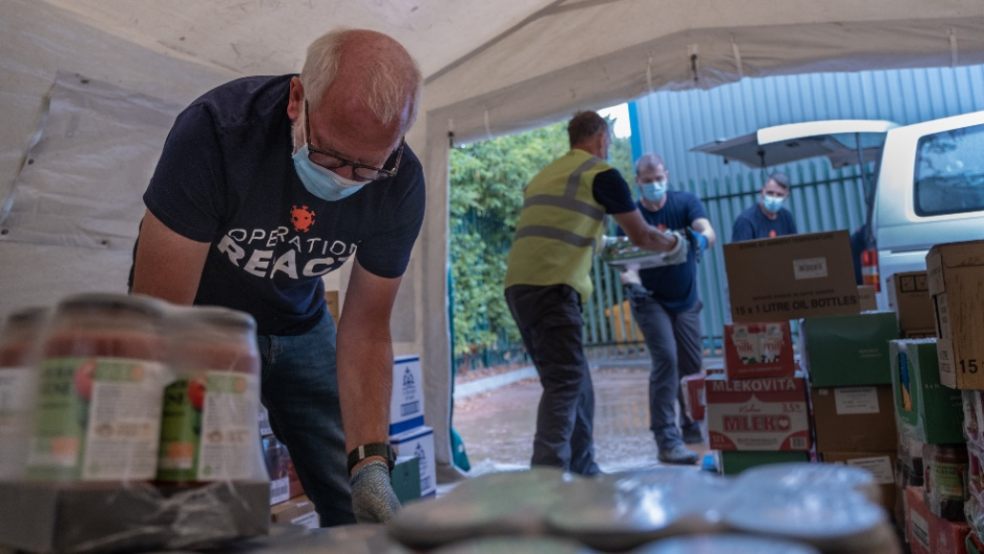 Food charity, FareShare South West take in date, good quality surplus food at scale from the food industry and redistribute it to support the most vulnerable in the region. As a result of the Coronavirus crisis, the charity has more than doubled the quantity of food it has distributed into the South West. This included expanding into Devon and Cornwall sooner than anticipated because of a need for this emergency food. With their main warehouse in Bristol, an Exeter Collection Point was established to increase impact and give charities and settings in Devon and Cornwall easier access to their food.
RE:ACT, a rapid disaster response charity that uses a military approach and specialises in logistical support, and crisis response charity British Red Cross joined together to establish and operate the Emergency Collection Point from the Sowton industrial estate in Exeter. The project has also been supported with transport from The Children's Scrapstore and TRIP Honiton, handling equipment from Still Materials Handling Ltd and the use of a storage and sorting warehouse space at Ashton Gate Stadium in Bristol.
Shelley Wright, Development Manager for Devon & Cornwall, says: "We are overwhelmed with how amazingly organisations have come together and collaborated to make such a huge impact to those struggling in these difficult times.
From this Emergency Collection Point in Exeter, 8 further hubs have been supplied with food, who have then got it out to 42 frontline projects. That is nearly 30 tonnes of food, or enough food for 67,000 meals for vulnerable people in Devon & Cornwall. 
Food insecurity was an issue for many across Devon and Cornwall prior to the Coronavirus crisis, but the last few months have exacerbated already fragile situations for people. Being able to get the basic need of food met will for many be the reason they do not fall deeper into more complex issues relating to poverty. We want to say a huge public thank you to all those who have been part of making this Exeter Emergency Collection Point operate."
Rich McSweeney, South West Co-Ordinator at RE:ACT says: "RE:ACT is thrilled to be working in partnership with FareShare and British Red Cross to help support communities tackling increased food poverty during Covid-19. Using our logistical expertise, RE:ACT helped establish and run the Emergency Collection Point in Exeter that has enabled local charities in Devon and Cornwall to get the provisions they desperately needed. Together, we've distributed nearly 30 tonnes of food, making a huge difference to families and individuals across the region. This has been a truly collaborative effort and a wonderful experience to be involved in."
Debbie Carrig, Emergency Response Officer for British Red Cross in Devon, says:
"The British Red Cross Exeter office is currently being used as a distribution centre for multiple voluntary organisations, including FareShare South West and RE:ACT, to help local food banks support people experiencing extreme food poverty across the South West.
"The deployment was initially scheduled for a four-week period but was extended to five weeks due to the success of the project. We have used two TM36 6×6 tents situated in the Exeter office car park to sort deliveries before sending them out to hundreds of food banks and charities throughout the region.
"We're enormously proud of our Red Cross emergency response volunteers in Devon. They have been doing an amazing job; marshalling delivery lorries, food pallets and food bank vehicles, as well as providing people with PPE and refreshments and sign-posting visitors to the Red Cross mobility aids service, which is also housed on-site.
"The volunteers have been covering two shifts every Monday for the period of the project, as well as supporting RE:ACT and FareShare South West at the base. This is a wonderful demonstration of our volunteers' dedication and an example of the power of kindness in action.
"The partnership has demonstrated how – by bringing together the skills and resources of different organisations – we can mobilise much-needed support to efficiently combat widespread food poverty at a regional level."
For more information about FareShare South West, visit: www.faresharesouthwest.org.uk
For more information about RE:ACT, visit: www.re-act.org.uk
For more information about British Red Cross, visit: www.redcross.org.uk
For more information about the Voluntary and Community Sector Emergencies Partnership, visit www.vcsep.org.uk